On 10 May 2017, United Nations High Commissioner for Human Rights Zeid Ra'ad Al Hussein will arrive in Uzbekistan for a two-day visit. This is the first time in over a decade that a high-level UN representative visits Uzbekistan and the first ever visit to the country by a High Commissioner for Human Rights. An article posted by Fergana News about this visit features comments by several representatives of international human rights NGOs, including Brigitte Dufour, director of International Partnership for Human Rights (IPHR). We re-post the article below, the original is available on the Fergana site in in English and in Russian.
Human Rights in Uzbekistan: Commissioner, remember 2005 Andijan Massacre!
On 10 May 2017, United Nations High Commissioner for Human Rights Zeid Ra'ad Al Hussein arrives in Uzbekistan with a two-day visit after a long break. We offered several well-known human rights defenders and experts on the region to comment on this important event and suggest concerns that a high UN official should raise in conversation with the leaders of the Central Asian country. In their common opinion, the main thing is that the visit would not have appeared formal, but initiates the process of actual promotion of human rights in Uzbekistan.
Steve Swerdlow, Human Rights Watch:
High Commissioner Zeid Ra'ad Al Hussein's visit to Tashkent is a crucial opportunity to press for long overdue and badly-needed human rights reforms in Uzbekistan and will be the first time in 12 years that the Uzbek government has accepted a high level human rights official from the UN. Human Rights Watch hopes Al Hussein will deliver the clear message that President Shavkat Mirziyoyev must resolutely break with Islam Karimov's awful legacy of human rights abuses if he wants his government to be viewed as a constructive international partner. Both publicly and privately, he should call on President Mirziyoyev to immediately and unconditionally release thousands of political prisoners languishing in Uzbekistan's jails, open up Uzbekistan to visits by the fourteen UN human rights experts who have requested access and not been able to visit the country since 2002.
He should call on President Mirziyoyev to allow media outlets such as Fergana News, Radio Free Europe, Voice of America and also international human rights organizations such as Human Rights Watch and Freedom House, and others to operate in Uzbekistan, issuing visas and accreditation to foreign staff. High Commissioner Hussein carries with him the authority of the UN's most important human rights bodies—the Human Rights Council, the Human Rights Committee, and the Committee against Torture—the recommendations of which Tashkent has ignored for far too many years. We hope his visit will push Uzbekistan to follow the numerous recommendations by these bodies, from closing the notorious Jaslyk prison, to allowing Uzbek citizens the right to peacefully assemble and practice their religious beliefs. Coming so close to the twelve anniversary of killings of hundreds of peaceful protesters in Andijan, we also hope that the High Commissioner will tell Tashkent that the world has not forgotten Andijan.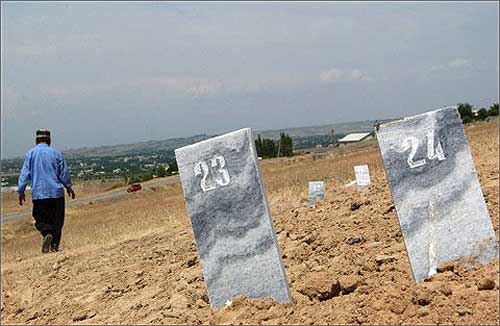 The shooting in Andijan on 13 May 2005 is the most serious crime of Uzbek authorities against their own people during the entire period of the rule of President Islam Karimov. Twelve years ago on this spring day in the main square of Andijan unarmed demonstrators along with armed rebels were shot; the exact number of victims is still unknown
Ivar Dale, Norwegian Helsinki Committee:
Initially, I think it's positive that the UN High Commissioner for Human Rights has scheduled a visit to Uzbekistan in May. Already a few weeks after President Karimov's death, the High Commissioner brought up Uzbekistan in a speech, where he pointed out that for ten years already, Tashkent has refused to recognize the Regional Office of OHCHR in Bishkek, and has not allowed any of its staff to visit Uzbekistan. Indeed, not only regular staff, but numerous UN Special Rapporteurs have requested access to Uzbekistan, but have not received an invitation. So it's possible that Uzbekistan has been on the High Commissioner's radar for some time already.
We have to assume the High Commissioner is aware of the way his visit may be used in state propaganda in this part of the world, in order to show a commitment to international human rights standards that really is nothing but window-dressing. However, in my experience, UN experts are familiar with the way authoritarian regimes seek to "drown" the real issues in statistics and meaningless figures. And I don't think Zeid Ra'ad Al Hussein is easily fooled. But it remains to be seen whether he and his office are brave enough, or perhaps diplomatic enough, to raise the really, really difficult questions – the release of political and religious prisoners, the widespread use of torture, the complete lack of independent media in Uzbekistan and of course, the big one – an independent investigation of the massacre in Andijan in May 2005.
If the High Commissioner's visit paves the way for future visits by UN experts on torture, for example, I think that could be considered a decent result. In short, I think it's fair to wait and see what comes out of this before passing judgement – but it's clear that there is a big difference between official visits to Uzbekistan by heads of states, whose primary interest is often trade and economy, and that of the High Commissioner, whose primary concern is human rights.
Of course, there's always the danger that the end result is good PR for the Uzbek government, and nothing for human rights. So in my opinion, the real challenge now is not on Mr. Hussein, but on Mr. Mirziyoyev.
Andrew Stroehlein – European Media Director of Human Rights Watch:
'While it's good to see Tashkent allowing Zeid to visit – particularly as they have been blocking UN rapporteurs on torture and other key human rights issues for some 12 or 13 years – we remain sceptical about the Uzbek government's intentions here. If they want to demonstrate a change of policy, it will take a lot more than a high-level visit. The Uzbek authorities could start to show that human rights matter to them by releasing the thousands of political prisoners they hold. Only actions like this will prove there's any real change in Tashkent's thinking.'
Brigitte Dufour, International Partnership for Human Rights Director:
'IPHR recognizes the significance of the High Commissioner for Human Rights Zeid Ra'ad Al Hussein's visit to Uzbekistan this week, a country which has to date remained largely closed to international human rights scrutiny. Indeed, over the past two decades, the government refused to respond to over 14 requests from UN human rights experts for invitations to visit the country or to allow international human rights NGOs to work there.
Newly elected President Shavkat Mirziyoyev has promised to make the government more accountable to the Uzbekistani people and some observers have interpreted recent developments as attempts to increase openness on behalf of the government. However, since President Shavkat Mirziyoyev took office there has been no real human rights improvements and the situation remains as repressive as before. Systematic violations of human rights continue to be perpetrated with impunity. The authorities use surveillance against human rights activists, independent journalists and government critics and such individuals are routinely subjected to police interrogations, arbitrary arrests and prosecution as well as imprisonment on trumped-up charges.
Although four government critics imprisoned on politically-motivated grounds have been released in the past few months, those that were released had finished serving their prison sentences or were released early because of health issues. Numerous activists, journalists and dissidents imprisoned following unfair trials continue to serve their sentences in prison conditions which amount to cruel, inhuman and degrading treatment. These people include: Nuraddin Dzhumaniyazov, Fakhriddin Tillaev, Azam Farmonov, Isroilzhon Kholarov, Ganikhon Mamatkhanov, Gaybullo Jalilov, Dilmurod Saidov, Yusuf Ruzimurodov and Erkin Musaev to name but a few.
Concrete evidence of President Mirziyoyev's stated change in policy is now needed: IPHR trusts that the High Commissioner will raise these serious issues in both public and private meetings and that he will call on the government of Uzbekistan to immediately and unconditionally release all those who are imprisoned on politically-motivated grounds and to swiftly issue invitations for visits for the UN special procedures mechanisms.'
***
For more information on human rights in Uzbekistan, see recent update prepared by IPHR and the Association for Human Rights in Central Asia (AHRCA) for the CIVICUS Monitor.