The following statement was originally published by Justice Info.
In this urgent appeal, which Justice Info has decided to relay, civil society organisations from Ukraine, Russia and Belarus and their international partners welcome the launch of the International Criminal Court (ICC) investigation in Ukraine triggered by an unprecedented collective referral by 39 State parties. The signatories call on the international community to provide a substantial injection of funding for the ICC and organisations supporting this process. The international community, civil society says, must invest in justice to document war crimes and eventually judge their perpetrators.
We welcome the long overdue launch of the International Criminal Court (ICC) investigation into the situation in Ukraine. According to the ICC Prosecutor, as of 2 March 2022, his office had received state referrals from 39 State Parties – an unprecedented show of unity and support for international justice. These referrals allow him to immediately proceed with the collection and preservation of evidence. However, an investigation into an active conflict will require significant resources – both financial and human. We call on all States to increase their financial support to the Court without undue delay, and to support the Prosecutor's office with highly qualified military and investigative experts. We also call on the international community to assist civil society in its effort to support the ICC investigation in Ukraine – through funding, expertise and coordination. Previous experience has shown the civil society engagement and cooperation with the ICC is indispensable to effective prosecutions in the Hague.
Enough evidence to support arrest warrants
From the outset of the invasion in 2014, Russian authorities and their proxies have shown utter disregard for human rights and the laws of war. In our view, the ICC has for several years now had enough evidence to support arrest warrants and prosecutions against key perpetrators of international crimes up and down the chain of command – like Igor Girkin (aka Strelkov), the former head of Donetsk separatist forces who terrorised the population of Slavyansk and admitted to extrajudicial executions; Igor Bezler, a former GRU officer implicated in torture and executions in Horlivka; or Sergey Aksyonov, the head of occupying authorities in Crimea under whose authority Crimean Tatars and Ukrainians have been subjected to persecution. For the past eight years, civil society organisations have meticulously documented war crimes and crimes against humanity perpetrated on the territory of Ukraine. In February 2014, the Russian government began its invasion of Ukraine, resulting in the illegal annexation of the Crimean Peninsula and the occupation of parts of Donetsk and Luhansk Oblasts by Moscow-backed separatists. Shortly afterwards, the ICC launched a preliminary examination of the situation in Ukraine. While the ICC Prosecutor considered an investigation, civil society interviewed thousands of victims of and witnesses to atrocities, documented artillery attacks on civilians through ballistic investigations and satellite imagery, supported victims of brutal torture and sexual violence and identified those most responsible for perpetrating international crimes. All findings have been transmitted to the ICC Prosecutor, as well as national authorities in Ukraine and other European nations.
Documenting today's international crimes
Today, as the Kremlin's aggression rages across Ukraine on an unprecedented scale, civil society is once again on the frontline of documentation. Early reports suggest that Russian forces – aided and abetted by the Lukashenko regime in Belarus – are indiscriminately bombing Ukrainian cities with artillery and cluster munitions. Civilian residences, schools, hospitals and key infrastructure have been deliberately targeted and destroyed. Oil and gas storage facilities have been directly targeted, causing unspeakable environmental damage and a humanitarian crisis. Human rights defenders and citizen journalists are documenting these atrocities in the field, in real time and under constant threat of death. Others are interviewing some of the half a million refugees who have fled across the border. An army of IT specialists is scouring open-source intelligence for images, videos and metadata to deconstruct atrocities and identify perpetrators.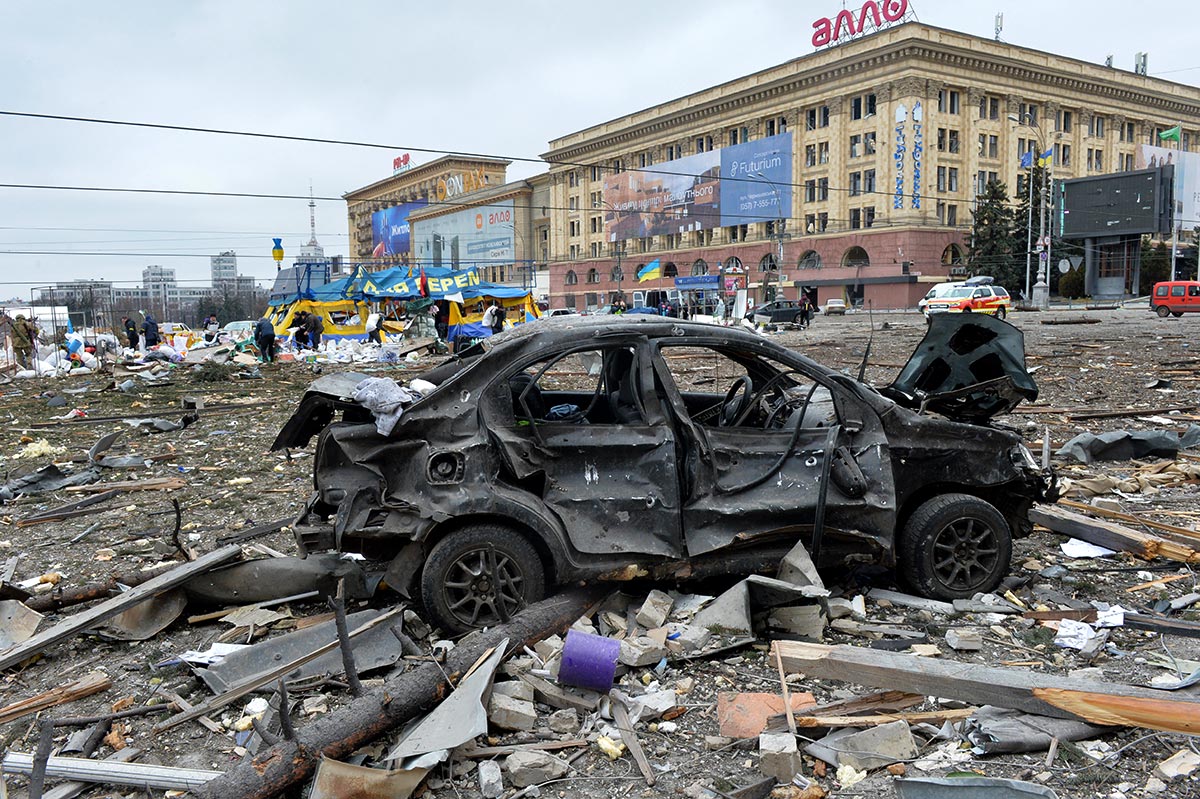 Our mission is to support the victims and to collect and preserve all available evidence of war crimes to an international judicial standard, with a view to making it available to the ICC and for future international and national justice and accountability efforts. The timely, thorough, and competent collection of credible and reliable evidence must happen at the earliest possible opportunity to preserve an accurate historical record of this unfolding tragedy, and to combat impunity.
The investigation needs money and experts
To succeed in this critical mission, we call on the international community to support the ICC and civil society in our efforts to document international crimes in Ukraine. The unprecedented move by 39 State parties to refer the Ukraine situation to the ICC is a much needed show of collective support for international justice and Ukrainian victims. Now we ask the international community to put its money where its mouth is. We call on State Parties to substantially increase funding for the Office of the ICC Prosecutor. Inadequate funding for this crucial institution does not match up with the importance of its role and global reach, undermining the entire project of international justice. In addition to budget, the ICC will need a significant increase in its pool of experienced investigators, military and ballistics experts, trauma specialists and Russian/Ukrainian interpreters. We call on State Parties to identify and second these human resources to the Court free of charge. Further, we call on the international community to help civil society support the ICC investigation. Civil society has been and remains on the frontline of the documentation efforts. In parallel to the ICC investigation, civil society will continue to play a crucial role in identifying, liaising with and representing victims and witnesses, and gathering evidence in locations beyond the Court's reach – in Ukrainian towns under bombardment or occupation as well as in Russia and Belarus. To this end, civil society needs additional funding, expertise, and coordination to ensure our effectiveness and support for the ICC's investigation. The international community has shown willingness to punish the Kremlin and its enablers for this war of aggression, now it must invest in justice to identify and punish those responsible for war crimes.
LIST OF THE 55 SIGNATORIES OF THE APPEAL
Albanian Helsinki Committee (Albania)
Alternativa (Ukraine)
Anti-Corruption Fund (Bulgaria)
Antigone (Italy)
Austrian Helsinki Association (Austria)
Belarus Free Theatre (Belarus)
Bir Duino (Kyrgyzstan)
Bulgarian Helsinki Committee (Bulgaria)
Center for Participation and Development (Georgia)
Centre de la protection internationale (France)
Centre for the Development of Democracy and Human Rights (Russia)
Citizen, Army and Law (Russia)
Citizens Network Watchdog Poland (Poland)
Citizens' Watch (Russia)
Creative Politics Hub (Belarus/UK)
Crude Accountability (United States)
Expert Forum (Romania)
Women's International League for Peace and Freedom (Germany)
Georgian Center for the Rehabilitation of Torture Victims (Georgia)
German Russian Exchange – DRA (Germany)
Global Diligence LLP and Global Diligence Alliance (UK/USA)
Helsinki Association for Human Rights (Armenia)
Helsinki Citizens' Assembly – Vanadzor (Armenia)
Helsinki Committee for Human Rights (Serbia)
Helsinki Foundation for Human Rights (Poland)
Human Rights Center (Georgia)
Human Rights House Zagreb (Croatia)
Human Rights in Mental Health-FGIP (Norway)
Human Rights Monitoring Institute (Lithuania)
Hungarian Helsinki Committee (Hungary)
International Federation for Human Rights – FIDH (France)
International Partnership for Human Rights (Belgium)
Kazakhstan International Bureau for Human Rights and Rule of Law (Kazakhstan)
Kharkiv Human Rights Protection Group (Ukraine)
Libereco (Germany)
Macedonian Helsinki Committee (Macedonia)
Memorial Deutschland (Germany)
Minority Rights Group Europe (Hungary)
Netherlands Helsinki Committee (The Netherlands)
Norwegian Helsinki Committee (Norway)
Open Society Foundation Prague (Czech Republic)
PAX (The Netherlands)
PEPWatch (Czech Republic)
Polish Helsinki foundation for Human Rights (Poland)
Promo Lex (Moldova)
Public Association «Dignity» (Kazakhstan)
Public organization "Dawn (Tajikistan)
Swiss Helsinki Committee (Switzerland)
The Swedish OSCE-network supports (Sweden)
Truth Hounds (Ukraine)
Ukrainian Helsinki Human Rights Union (Ukraine)
World Organization against Torture – OMCT (Switzerland)
ZMINA Human Rights Centre (Ukraine)
Centre for Civil Liberties (Ukraine)
Anti Corruption Action Centre (Ukraine)